Corporate Pheasant Hunts in South Dakota
Eagle Pass Lodge specializes in combining guided pheasant hunting with company meetings and retreats. Inspiring moments can happen at Eagle Pass Lodge. Whether you are rewarding employees for a job well done, entertaining clients, or gathering for a meeting, Eagle Pass Lodge takes care of every detail to ensure your group has a great time.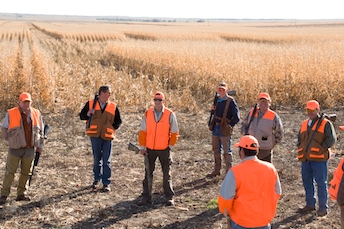 The Corporate Pheasant Hunt
Corporate hunts are much like any group hunt, except we schedule some time for you to conduct your meetings or presentations. You will find that Eagle Pass Lodge is well equipped to handle your corporate retreat needs. Among the lodge's features is our theater which works well as a presentation room with 24 luxurious, leather recliners and a 168" theater screen. The high-definition equipment allows you to make your PowerPoint presentation in style and it is also Internet compatible.
Adjacent to the theater is a spacious game room with a vaulted ceiling, large windows, and numerous big game mounts. The room can be set up either with one large conference table with executive chairs or several workstation sites. High-speed wireless Internet is available throughout the lodge and cellular service is excellent.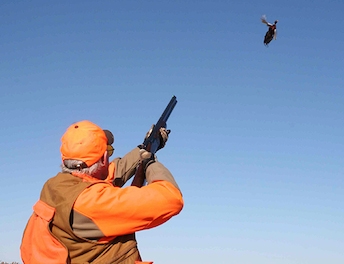 Building Relationships Before & After The Pheasant Hunt
Downtime is important & Nothing builds strong ties within your corporate community like a South Dakota pheasant hunt. Some of the most novel ideas and discoveries come when you have cleared your head and are enjoying your surroundings. Bonds are created in the field and at the lodge that doesn't take place in any other environment.
We have several outdoor patios that you can enjoy with your colleagues while playing golf on our executive, par 3 courses with bent grass greens or playing a round of tennis. Grab your gun and try the five-stand sporting clays or sit by the scenic pond and watch the smallmouth bass make your bobber dance.
Eagle Pass Lodge is the perfect place to have your retreat and rejuvenate the productivity of your colleagues. And at Eagle Pass Lodge, you can also hunt wild, South Dakota pheasants.