Traditional Driven Pheasant Hunt
Welcome to Eagle Pass Lodge. Located in central South Dakota, Eagle Pass Lodge offers one of the best pheasant hunting experiences in the world. A bold statement we know, but one we look forward to backing up. Any number of places in South Dakota can show you lots of birds, but there is much more to a hunting trip than just shooting. That is where Eagle Pass Lodge separates itself from the group!
You will be part of a traditional South Dakota driven pheasant hunt when you visit Eagle Pass Lodge. The locals have been hunting pheasants this way since the 1940s and that is how we continue to hunt today.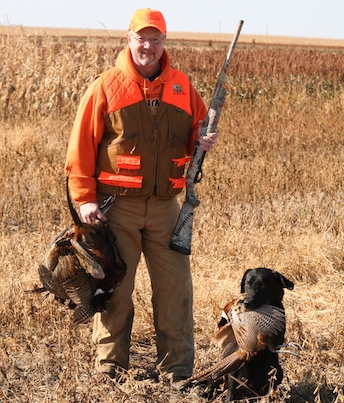 Traditional Pheasant Hunts
Prepare for the Explosion of Birds
The morning usually consists of hunting three or four fields. Professional guides with well-trained retrievers will accompany you in the field. The enthusiasm that the Labrador Retrievers bring to the field is contagious, and it isn't long before you find yourself completely caught up in the moment. That first rooster flush always makes your heart race and brings a smile to your face!
A traditional South Dakota pheasant hunt has between 12 and 20 hunters in a group with 10 to 14 "walkers" and 4 to 6 "blockers". Our non-shooting guides will accompany the walkers, work their dogs and carry pheasants. Another guide will drive the bus, help position the blockers and retrieve the end shots. Walkers and blockers may alternate during the hunt. Walkers will move slowly through the corn fields and milo strips allowing the dogs time to traverse the field and flush the wild pheasants or push them towards the blockers. Be prepared for "explosions" of nervous pheasants all taking flight at the same time. That sight and sound are typical of South Dakota pheasant hunting and should remain with you for the entire year.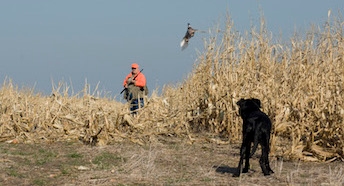 We have an abundance of wild pheasants and we like to have a leisurely hunt. After each walk, we will take a break for refreshments and rest the dogs. After several fields, we will return to the Pheasant Hunting Lodge for a soup and sandwich lunch and a short break, then it is back to the fields! On the afternoon hunt, you will hunt new fields and your guides will help you achieve your daily bag limit. When the hunt is over, it's back to the Lodge for photos, relaxation, and the camaraderie of friends. We invite you to enjoy the peaceful atmosphere that Eagle Pass Lodge is known for. No alcohol will be allowed before or during the hunt.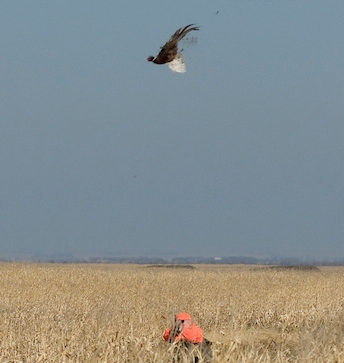 Small Groups Welcome
Looking for a hunt for just a couple of hunters? We can accommodate you. We have several hunts throughout the season made up of a melting pot of small groups. Our Concierge can give you some options of groups to join. Many guests are wary of hunting with strangers at first, but soon realize that they all have one thing in common. They love pheasant hunting. In fact, in many cases, these new friends have become lifelong friends and ask to hunt with each other year after year.
We can't allow small groups or individuals to go out on their own and hunt. There are a number of mom-and-pop establishments in South Dakota where you can go and hunt like that. Eagle Pass Lodge is where you come to hunt to enjoy the tradition, the social experience, the luxurious surroundings, and, oh yeah, a butt load of wild pheasants.