Navigation:
Home
> Corporate Retreats
Corporate Retreats
Inspiring moments happen at Eagle Pass Lodge. Book a working retreat or corporate event now and allow the creative juices to flow without the distractions from the outside world. Let our Concierge help you design an event schedule with the optimum mix of work and play. Eagle Pass Lodge is well equipped to accommodate all of your corporate retreat needs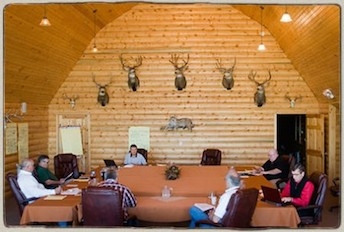 Everything You Need
Presentation Theater with 168" screen and 24 plush seats
High Definition Projection Equipment that is Internet Compatible
Conference Room equipped with large table and executive chairs
High speed (fiber optic cable), Wireless Internet
Excellent Cellular Service (AT&T and Verizon)
Copy and Fax Machines
On Site Food and Lodging
Executive Par Three Golf
Tennis Court (Basketball)
Stocked Bass Pond
Five Stand Sporting Clay Course
World Class Pheasant Hunting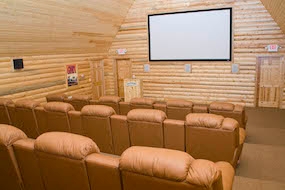 Stay Connected
The high definition projection equipment allows you to make your power point presentations in style and it is also Internet compatible. Adjacent to the presentation room is a spacious game room with vaulted ceiling and large windows that is easily convertible to a conference room. The room can either be set up with one large conference table or several workstation sites. High speed, wireless Internet is available throughout the Lodge. Our fax machine and copier are also at your disposal.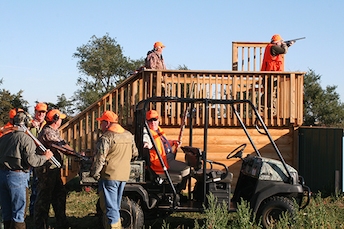 Down Time from Work
Eagle Pass Lodge is very capable of making your "down time" relaxing and refreshing, too. Perhaps, choose to unwind on the patio and enjoy some par-three golf or play a game of tennis or basketball on our championship size court. If you just want to clear your head, take a stroll on the natural prairie trail or lounge on the bank of our scenic bass pond.Eagle Pass Lodge is the perfect spot to have your retreat and rejuvenate the productivity of your colleagues. And at Eagle Pass you can also hunt wild, South Dakota pheasants.